We held our launch event on Sunday 2nd July- and we're also hoping to find out what park users would like us to focus on next in our survey.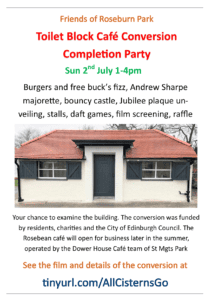 The video showing all the work carried out lasts 10 minutes can be viewed below:
The full story behind the conversion project can be found at All Cisterns Go!! | Friends of Roseburn Park (SCIO)
The 2023 Survey results can be downloaded here http://www.friendsofroseburnpark.org.uk/files/2023/10/2023_Roseburn_Park_Survey_Results.pdf
Here are the photos from the launch:
RAFFLE PRIZES
| | |
| --- | --- |
| Roseburn Shop: | Raffle Prize: |
| Art et Facts | Voucher for £50 framing |
| Brendan Haddock Jewellers | Necklace and earring set |
| Chapmans Property Management | Bottle of Prosecco |
| Claire Doig Hairdressing | Voucher £25 |
| Connell McFadden Estate Agents | Bottle of Prosecco |
| Dine | Voucher for £100 |
| House of Hound | Dog ball thrower |
| ID Hair & Murrayfield Skin Clinic | Basket of hair care products |
| Mortgage seekers | Bottle of Prosecco |
| Murrayfield Bar | Bottle of wine |
| Moving Pictures | Voucher for £50 |
| Anita Glasby Opticians | 2x children's sunglasses |
| Roseburn Bar | Bottle of Whisky |
| Roseburn Shoe Repairs | Voucher for £10 |
| Ruby Rose | Hand painted bottle with LED lights |
| Sassy dog Groomers | Voucher for £60 plus another for facial |
| Steven Henderson Hair | Voucher for £75 |
| Tesco Express | Bottle of Rum, Jack Daniel's and Sparking wine |
| Thallon Soulis | Voucher for cut and blow dry |
| The Hampton | Voucher for £30 meal, plus compimentary wine |
| Turkish Barbers | Vouchers x3 for cut & shave. |
| Vigo Delicatessen | 2x free coffee |
| Wight's Chiropracters | Voucher for a Chiropractic assessment |
The event was covered in the Evening News at https://www.edinburghnews.scotsman.com/news/people/edinburgh-roseburn-park-years-of-work-by-volunteers-transfom-derelict-toilet-block-into-community-cafe-4203889 and in the Edinburgh Reporter at https://theedinburghreporter.co.uk/2023/07/grand-opening-of-rosebean-cafe/
SURVEY
Friends of Roseburn Park (FoRP) asked residents in 2016 what they'd like to see in the park. Since then we've helped deliver some of the things residents wanted– the toilet block conversion to a café, the log bench, a better new play park, a new mural, new trees, BBQ slabs and benches and so on. We now want to refresh that vision. For that we need your help!
We are distributing 2,500 paper survey forms to the homes around Roseburn Park. We are also collecting views on the same questions online at tinyurl.com/roseburnparksurvey .
Can you let us know what you think of the ideas we've put forward– and add any you think we need to consider? We'll use your feedback as the basis for grant applications.
We look forward to answering your questions at the launch, to which we'd like you to bring your completed forms to. If you can't make it, please drop your forms through the Armoury door letterbox opposite, at 13c Riversdale Crescent before 13th August, please.
We'll email out the survey results to FoRP members– it's free to join us; do so on our website at www.friendsofroseburnpark.org.uk/join-for-free
You can also comment or "like" FoRP's Facebook page at www.facebook.com/roseburnpark . Please email any questions you have to FriendsOfRoseburnMembership@gmail.com or quiz us at the Murrayfield Community Council meetings.